Our Vision and Values
At Trinity , we are a family where learning is our key purpose for every member of our community and in which each pupil has challenging targets and understands the journey towards reaching them.
We ensure that all members of our school community are valued for their uniqueness and are recognised for their contributions, developing into outstanding citizens of the wider community.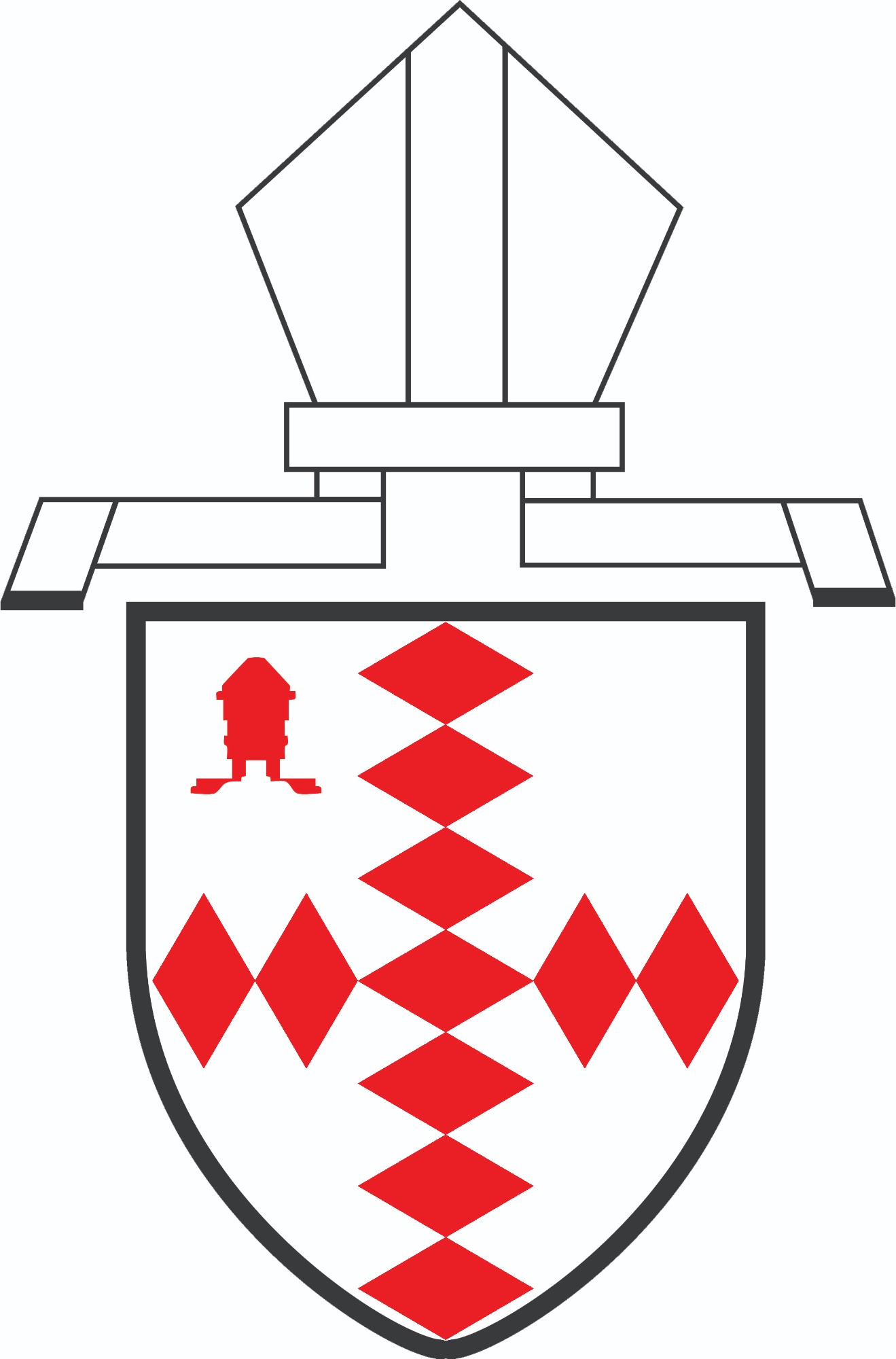 We are part of the Southwark Diocese (click here to visit the education site) and work closely with the team to enable us to support each other as a Church of England Family of schools.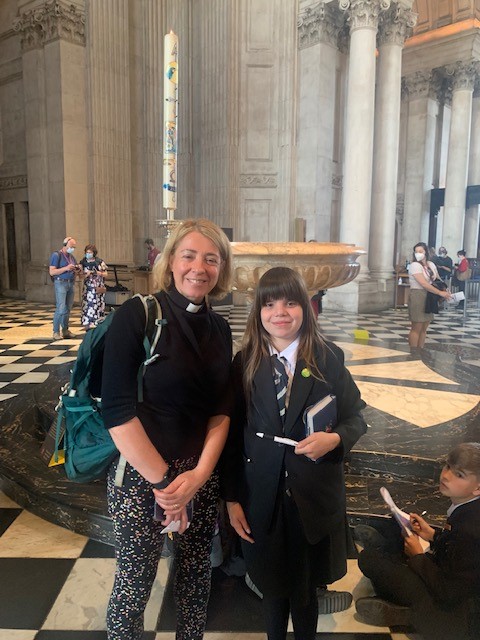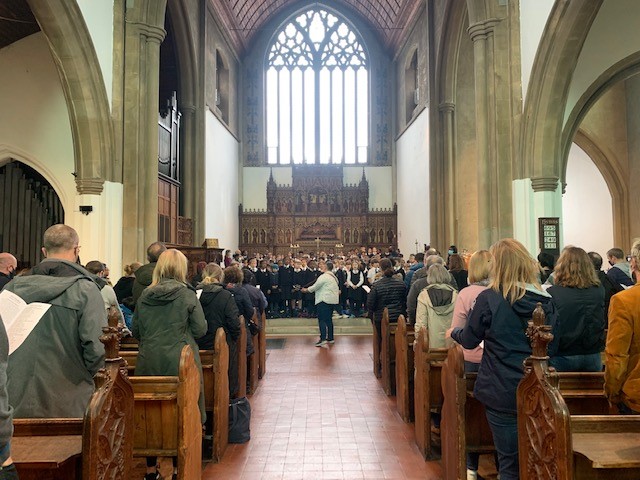 Our Vision
In the Bible, John (10:10) tells us that Jesus said 'I have come that you may have life in all its fullness'. He calls us to a full life in mind, body, heart and spirit. Therefore, we believe the purpose of education is to nurture and enable every child to flourish and to be the person they are fully capable of being. Life in all its fullness is about living a varied and full life full of learning, growing, helping, reward, joy, excitement and caring for each other. Trinity provides opportunities for growth in mind, body and spirit through inspirational and innovative education underpinned by a deeply Christian ethos.
Our Ethos
To be a strong Christian community in which children and adults – all of whom reflect the goodness of God - can flourish. A community where pupils fulfil their potential and achieve the very best educational outcomes, enabling them to make good life choices, to uphold British values, and to take their place as citizens of the wider world.
We warmly welcome pupils and staff from all faiths and none.
As a church school we have three core values: we are a learning community, we are a loving family and we are living good lives
These values encapsulate the things that are important in our school
A learning community
The Parable of the Talents teaches us to use our God given talents and skills and to develop them, so we shine and flourish and enjoy life in all its fullness
The Christian Story is central to who we are and what we do, and informs all of our learning
We have high expectations of ourselves and one another in every area of school life - we aspire to excel and we never give up
We are committed to the principles of restorative justice and discipline that is exercised with love; where all have the opportunity to learn through their mistakes
A loving family
The Parable of the Lost Sheep teaches us to be inclusive of all. We want each Trinitarian to be safe, happy and loved in our Trinity family.
We belong to a loving family which includes pupils, staff, parents and governors - of all faiths and none; which extends to our local churches and our community
We recognise and celebrate our diversity and equal worth, and seek to be inclusive of all, as members of one body, all made in the image of God.
Living good lives
The Parable of The Good Samaritan teaches us to be courageous advocates and agents of change. We want all Trinitarians to stand up for what is right and just to make a positive difference to the lives of others.
As Jesus commanded us to love our neighbour, we seek to serve those in need within our own community, and in the wider community
We are committed to pursuing social justice - especially for those who are disadvantaged - preventing discrimination and improving outcomes for all pupils
We are all encouraged to exercise leadership, and to take responsibility for ourselves and one another.
Our Spirituality
Spirituality can be very difficult to put into words. When reflecting on what it means, spirituality differs from person to person, and often changes within people during their lifetime. It is important to note that spirituality is not the same as having a religion or faith; a person can be spiritual without having a particular faith.
In our faith working party, alongside other key stakeholders such as governors, teachers and pupils we have defined spirituality as:
"Spirituality is not something we can see; it is something we feel inside ourselves. It is about belief in something beyond yourself; emotional response of awe and wonder; a sense of belonging and purpose in the world."
Our Distinctive Characteristics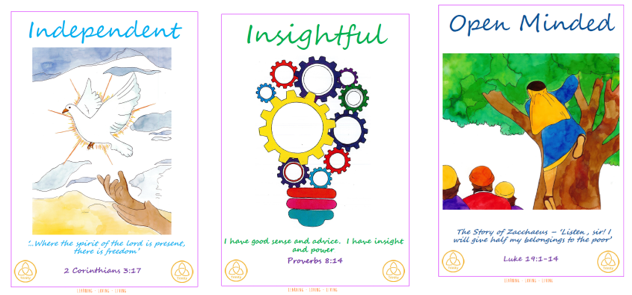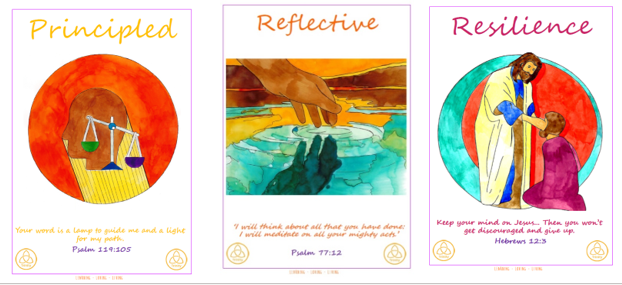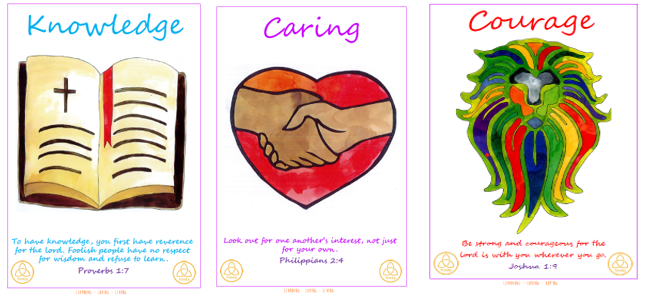 Courageous Advocacy
Personal Development
What is personal DEVELOPMENT AT Trinity
Firmly rooted in our ethos of Learning – Loving - Living, we have developed the Trinity Personal Development program – a series of activities, assemblies from guest speakers, workshops, taught lessons and day trips out that will challenge pupils and help them to grow and develop into citizens of the world and life-long learners.
The Trinity Personal development program aims to support pupils in flourishing both in and outside the classroom. It aims to develop pupils' skills of independence and perseverance, to encourage selflessness and compassion and help build a sense of kindness and curiosity in the world around them. Pupils will continue to grow academically while also developing their moral and ethical character within our Christian setting. The program will support pupils in building their cultural capital, in recognising and developing their interpersonal skills, living together as an inclusive and diverse open-minded community. The program will develop characteristics and attributes they already have and will challenge them to think strategically about how they can enhance their education beyond the classroom.
At Trinity, pupils are facilitated to live 'life in all its fullness' and have a life enhancing encounter with the Christian faith. Personal development at Trinity is about developing people who can flourish in all areas of their lives.
Character corner
Character Corner
Published in the Trinity Newsletter Character Corner helps pupils, parents and carers to engage together in the Trinity Charter with a list of free, social, cultural and educational weekend activities around London, helping pupils to enhance their social and educational development beyond the classroom.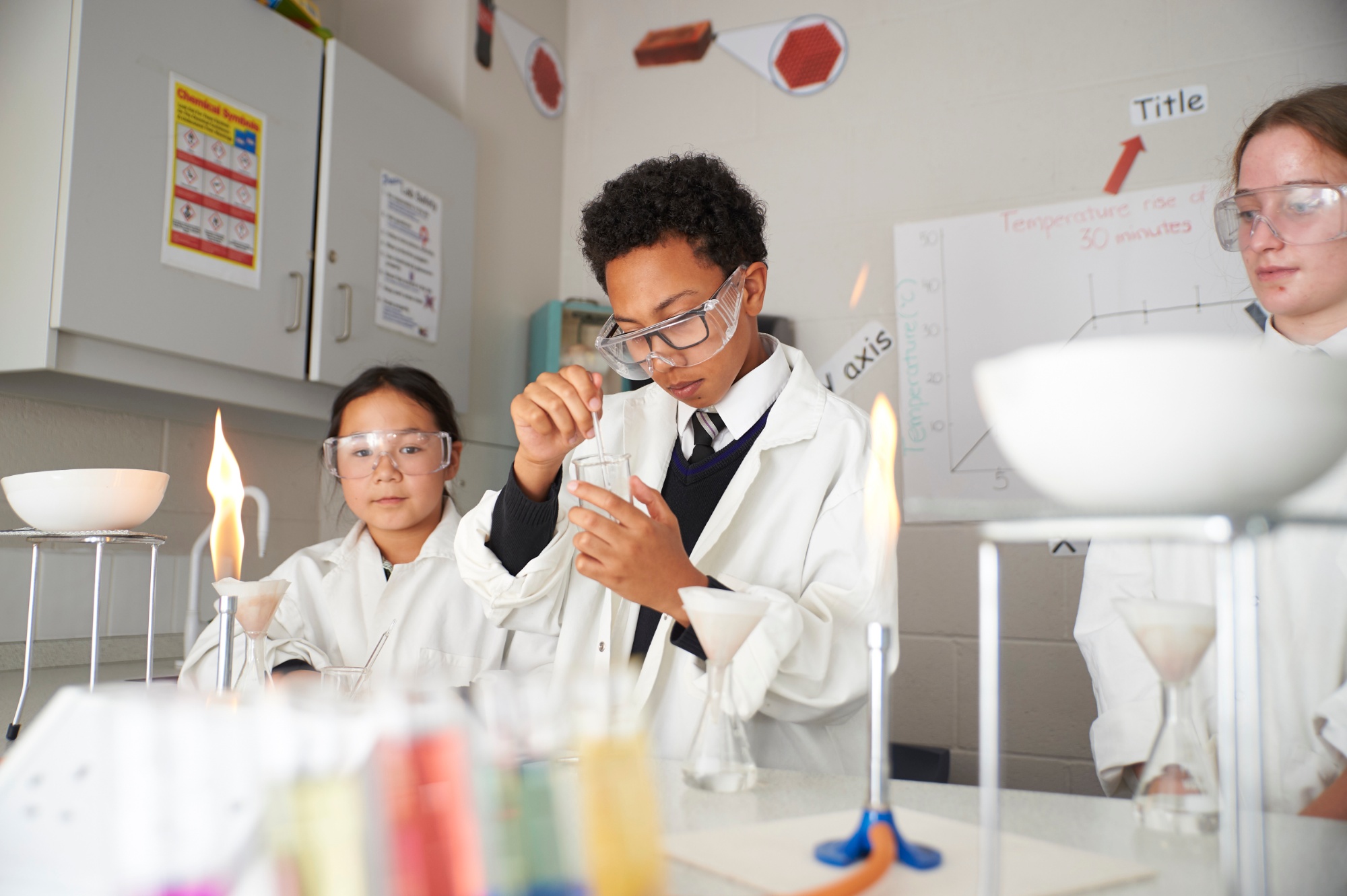 Character curriculum
Through a bespoke character curriculum pupils will be guided through a wide and rich set of experiences which go above and beyond the normal school offer. This includes:
Personal Development drop-down lessons each half-term that focus on wider issues such as human rights, the environment, courageous advocacy, relationships, holocaust, active by-stander and greater depth topics from various subject areas such as art and diversity and Iceland people and land.
Weekly character lessons delivered during family group time focus on developing pupils wider understanding of the world. In year 7 pupils work towards achieving the Character Charter Award rasing their cultural capitol, In year 8 pupils work on the social action project "1st Give" rasing funds and awareness for local charities. In KS4 pupils work on extended projects looking at world and home issues on topics of social, political, environmental and financial matters. In year 10 pupils also complete an extended project on work readiness in preparation for their work experience.
Pupils' talents and interests will be fostered and encouraged through a range of opportunities both inside and outside the curriculum EG trips and visits, courageous advocacy and social justice projects.
All pupils, including those from disadvantaged backgrounds, are involved in activities and projects that develop their understanding of future careers and the expectations of citizens of modern Britain.
The Trinity Offer is coordinated centrally, and all stakeholders understand how personal and character development form an integral part of school life EG through Whole School Worship/Family group time.
Activities in school focus on the individual and the child centred approach to pastoral care is highly effective in nurturing pupils' SMSC.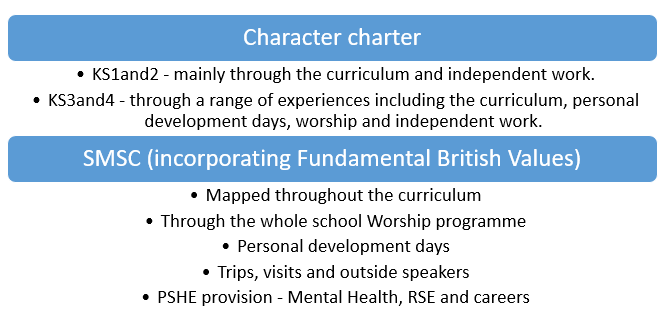 Enrichment Events
As well as taught weekly sessions on Character, PSHE and half-term drop down lessons on Personal Development pupils are offered many opportunities to develop their God given talents. Pupils are encouraged to shine as they become agents for change for justice and equality.
Black History Month - Pupils learn about key individuals in the struggle for social justice and equality daily in family group sessions as well as weekly in every subject. BHM is a month-long look at contributions of merit from Black citizens of the UK and beyond to specific subject areas and the story of the fight for social justice and equality.
LGBT+ Month - Pupils learn about key individuals in the struggle for social justice and equality daily in family group sessions as well as weekly in every subject. LGBT+ is a month-long look at contributions of merit from members of the LGBT+ community who are citizens of the UK and beyond to specific subject areas and the story of the fight for social justice and equality.
Year 10 "Active By Stander" training - A day workshop for all year 10 pupils training them how to show support to a victim in situations in which someone is being abused.
Guest speakers are role models for pupils. This year pupils have heard talks from the internationally renowned speaker/author Akala and Janet Hills MBE. They shared their stories with pupils to inspire them to greatness and to celebrate their potential.
Trinity Futures is a week long careers development program that introduces pupils to careers from a wide range of fields. Ex-Pupils are used as role models for current pupils showing what is possible if you set your mind to it an opening pupils minds up to the possible career options ahead of them in the future.
Careers interviews with an independent advisor take place in year 8 and year 10 helping pupils to make informed choices about option subjects in year 9 and college choices leading up to year 11.
Diversity Week is a week-long look at diversity and protected characteristics. This helps pupils to keep an open mind and form inclusive opinions of others.
International Women's Day is a celebration of half the planet. Bringing
Neuro Diversity Day is a celebration of people on the ASD spectrum. Pupils were asked to contribute anonymously to lessons and assemblies in which all pupils leaned about the challenges that face those with ASD in seemingly simple social contexts. This is a powerful advocacy for pupil voice for members of the school community.
Personal development week is a week-long trips and activities week that gives pupils a wide range of experiences and activities outside the classroom.
PSHE
The PSHE curriculum is taught weekly in Family Groups session. Topics follow the governments RSE curriculum which focusses on personal survival skills on matter of health, relationships, mental well-being, British values, addiction, diet, exercise, finance diversity and inclusion. Pupils are taught to cherish and embrace diversity since we are all made in the image of God.
The PSHE curriculum, being part of the personal development program, also naturally overlaps with the Character Curriculum teaching pupils important social and interpersonal skills of inclusion and diversity alongside lessons in life and self. Outstanding relationships help pupils to thrive and grow together as a loving family.
The PSHE curriculum has a strong ethos running through it of helping others and advocating courageously on behalf of those whose voice is not as strong.
The pupils are encouraged to live life in all its fullness by loving others as themselves and by being the good Samaritan taking lessons about self and community from PSHE into their daily social interactions.
Eco committee
Let us make man in our image, after our likeness. And let them have dominion over the fish of the sea and over the birds of the heavens and over the livestock and over all the earth and over every creeping thing that creeps on the earth." Genesis 1:26-30
Our Trinity Secondary Eco-Committe had been formed with Mr Jones leading the group.
This new initiative aims to raise environmental awareness amongst our Trinity Family by sharing thoughts, ideas, advice and tips on how to "Think Green".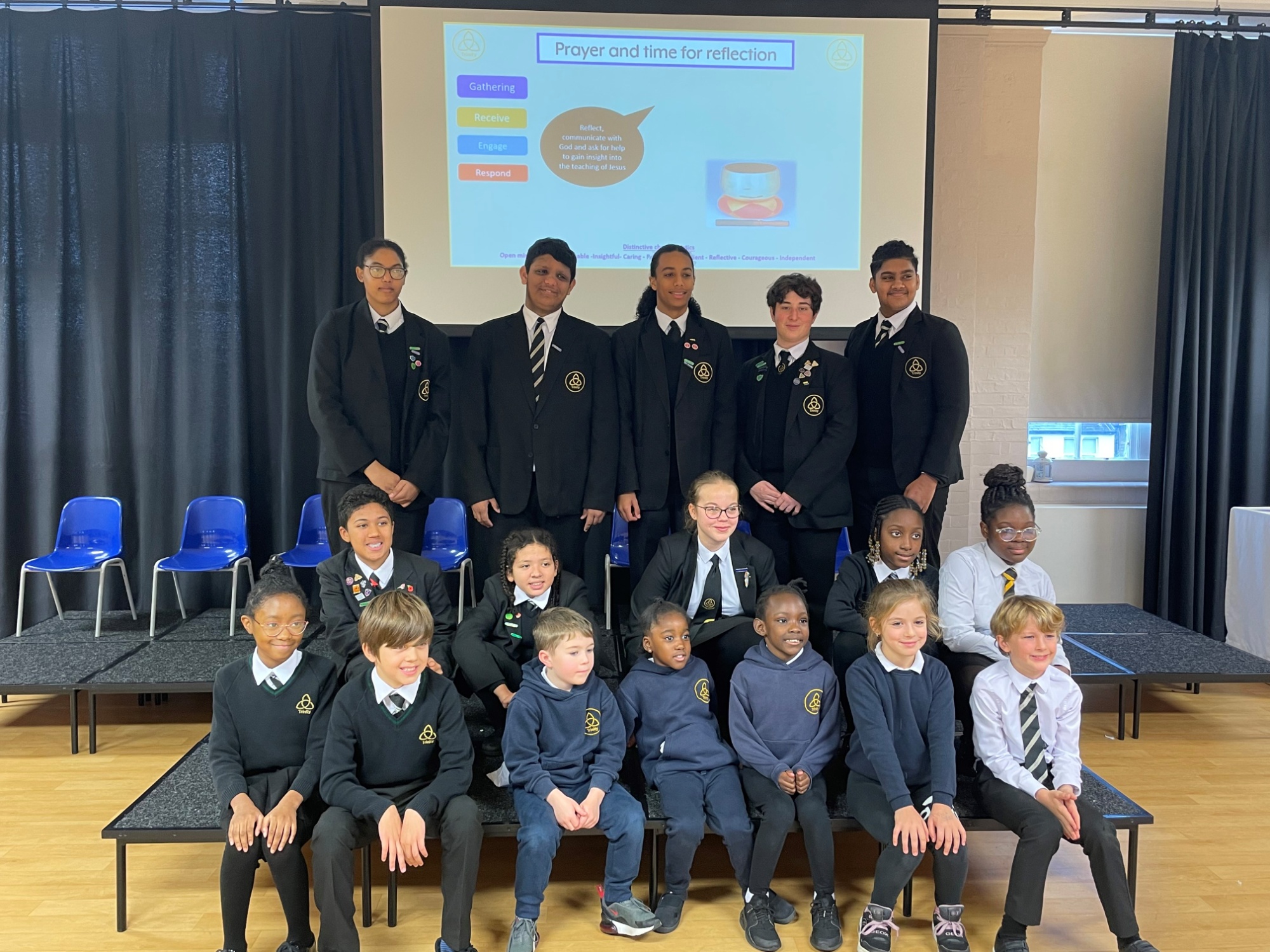 Wednesday 23rd of November, members of the Trinity Secondary Eco-committee travelled over to the Primary school to hold our first eco-committee. The secondary pupils taught primary all about the verse above from Genesis and how we can best look after our planet and the resources we get from it.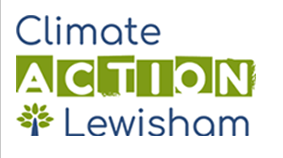 Eco-Committee also aims to bring to your attention this wonderful climate action group which operates right here in Lewisham! Climate Action Lewisham organises events to support greener living right here in Lewisham.Check them out and support them! https://climateactionlewisham.org/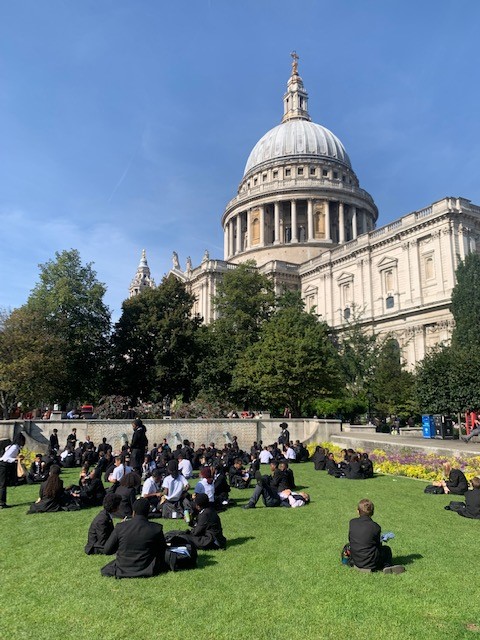 ​
Curriculum Design: Trinity Theological Underpinning