Writing
Writing
producing clear and coherent text: writing effectively about literature for a range of purposes such as: to describe, explain, summarise, argue, analyse and evaluate; discussing and maintaining a point of view; selecting and emphasising key points; using relevant quotation and using detailed textual references
writing with accurate Standard English: accurate spelling, punctuation and grammar.
Here is a detailed breakdown of the qualification: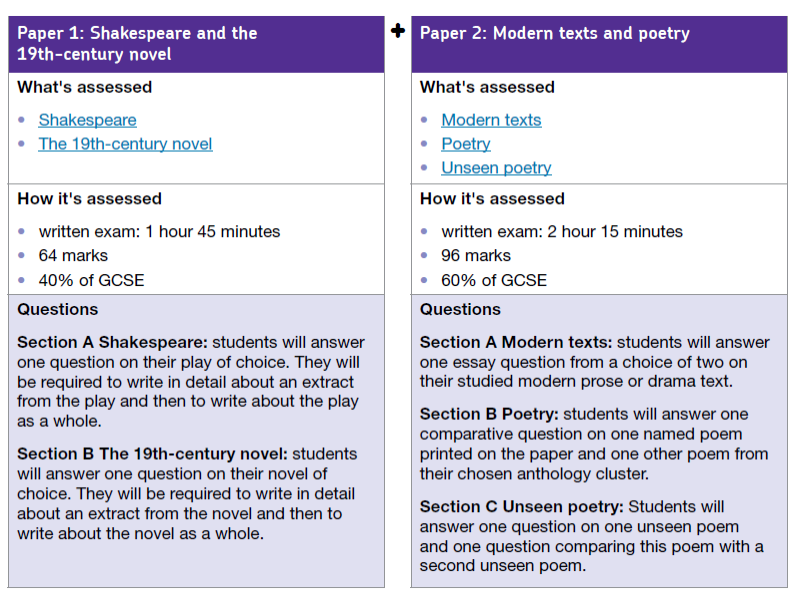 Assessment in English
We use Comparative Judgement to summatively assess extended writing three times a year. Every time we complete a judging session, we compile a whole class feedback sheet that records strengths and weaknesses. These inform the next teaching steps as well as informing curricula amendments. We also use whole class feedback when marking: teachers go over excellent pieces of work and reteach or correct misconceptions and omissions. Most lessons involve low-stakes retrieval practice and restrictive practice activities that focus on the component parts of writing and responding to texts. These tasks allow teachers to give instant corrective feedback live in class.
Booklets
At Trinity, we teach English using mastery booklets. These contain everything that students need for an entire unit of study and complement the main literature texts that are taught. Booklets typically contain:
1. Vocabulary Tables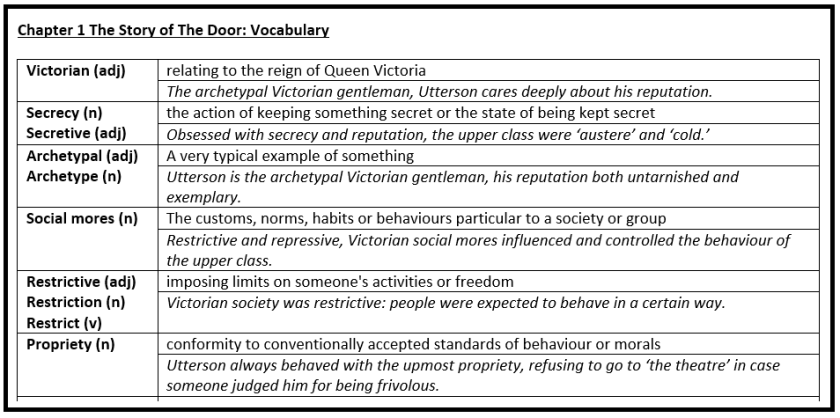 These tables are used to teach high-utility, academic vocabulary, providing students with example sentences and all relevant forms of the words that are taught. Students practise using these words, initially at a sentence level and then in wider writing
Short Stories
Here are some of the short stories that students will read and study at Trinity:
Year 7:
The Compass and Torch by Elizabeth Baines
Eleven by Sandra Cisneros
Charles by Shirley Jackson
All Summer in a Day by Ray Bradbury
The Street Sweep by Meron Handero
Year 8:
Games at Twilight by Anita Desai
The Darkness Out There by Penelope Lively
The Test by Angela Gibson
I Used to Live Here Once by Jean Rhys
Dagon by H.P. Lovecraft
Year 9:
War by Jack London
The Story of an Hour by Kate Chopin
An Occurrence at Owl Creek Bridge by Ambrose Bierce
Rain Horse by Ted Hughes
The Knowers by Helen Phillips
Year 10:
The Mask of the Red Death by Edgar Allen Poe
A Glowing Future by Ruth Rendell
Gift of Magi by O. Henry
Paper Menagerie by Ken Lui
The Birthmark by Nathaniel Hawthorne
Year 11:
A Very Old Man with Enormous Wings by Gabriel Garcia Marquez
Birdsong by Chimamanda Ngozi Adichie
Sew my Mouth by Cherrie Kandie
Eveline by James Joyce
Kew gardens by Virginia Woolf
Non-Fiction Articles
Students read and respond to literary journalism, polemics, speeches and articles that cover relevant domain knowledge, helping them to build their understanding of the world and how language is used to represent it.
Knowledge Organisers
Each unit has an accompanying knowledge organiser which contains the most useful and important knowledge that is taught. Here is an example: