Uniform
Trinity Secondary PHASE Uniform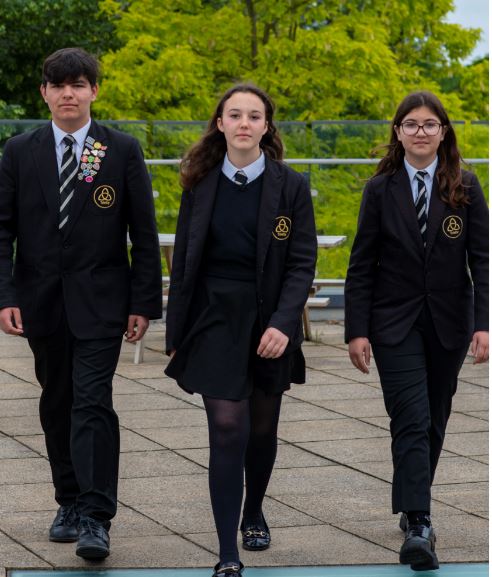 Main Uniform
Black blazer with the school badge
Black skirt or trousers (no combats/jeggings/leggings)
White shirt (Long or short sleeve - to be worn tucked in and with the top button closed)
School tie (6 stripes showing after the knot)
Black formal school shoes with no other colour anywhere and black laces (no canvas shoes or trainers)
Black socks
Black hair accessories only. No Durags, No hats, No Bonnets, no full head-scarves unless for religious reasons.
The only jewellery permitted is a watch and one pair of small plain gold or silver studs, no bigger than 2mm in diameter. One in each ear in any part of the ear. No nose or tongue piercings are to be worn.
Coat: to be black or dark blue (If other colours are worn they have to remove the coat and store them in their school bag during the school day)
Trinity school bag. PE school bag Year 7-10 only
No phones / Headphones. They will be confiscated on sight
No make-up to be worn / no nail varnish or false nails.
P.E. UNIFORM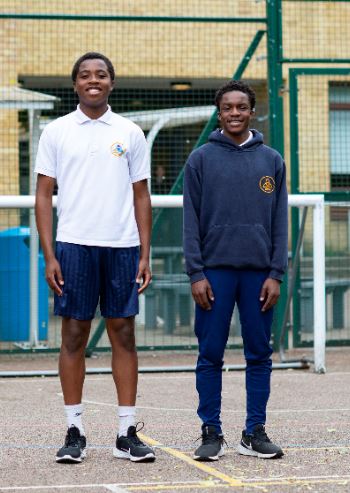 Official white polo shirt with Trinity Logo (no other T-shirt permitted)
Plain navy blue shorts or skirt (no large labels or stripes)
Plain navy blue leggings or tracksuit bottoms (no large labels or stripes)
The official navy blue Trinity Sports Hoody or the official Trinity Rugby Top (No other tops are permitted).
Trainers that are suitable for sport. (Fashion trainers are not permitted).
Football boots (Trainers will not be allowed when using the field due to Health and Safety reasons)
New for 2021 - Trinity Kit Bag. This will be given to all pupils in Year 7 to Year 10 in September 2021 for free. After this, any additional Trinity Kit Bags will need to be purchased from the school uniform shop.
All pupils must wear their full uniform to school and on the day that they have P.E. they will change in school. Year 7 to 10 must use official Trinity Kit Bag.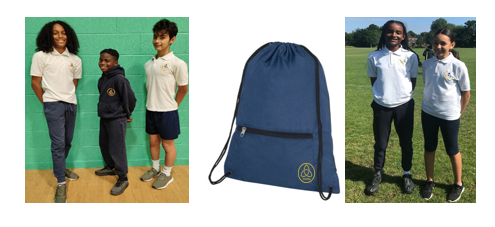 Changing Rooms Open
From September 2021, the school changing rooms will be back in operation. Pupils in Years 7 to 10 must bring their P.E. Kit into school in their Trinity Kit Bag. They will not be permitted to use any other bags to carry their kit. Pupils in Year 11 may bring their P.E. Kit in a bag of their choosing.
In September, all pupils will wear their correct school uniform to school every day and change in the school changing rooms when they have P.E.
Fit or Not Fit : Bring Your Kit
If you are not fit for P.E. (with a medical note). You must still bring your P.E. Kit as you will be asked to support the P.E. teachers during your lesson.
SCHOOL UNIFORM STOCKIST
WEARABOUTS SCHOOLWEAR
99 Sydenham Road
London
SE26 5UA
Tel : 0208 659 9917
Website: wearabouts schoolwear
: