Secondary Phase Music
There are many musical opportunities you will be able to take advantage of at Trinity.
In year 7 you will learn an orchestral instrument in your curriculum lessons, as well as having access to a wide variety of private music lessons.
There is a wide range of extracurricular activities open to all, which result in performances both in and outside of school. We have performed at Catford Broadway, The Royal Festival Hall, Blackheath Halls, Goldsmiths University, Lewisham People's Day and even in Paris!
We also offer private music lessons on many instruments. Application forms are available from reception or Mrs Lowe.
Mrs Lowe (Head of Performing and Creative Arts
My time at Trinity by Honey Hill and LSO On Track Concert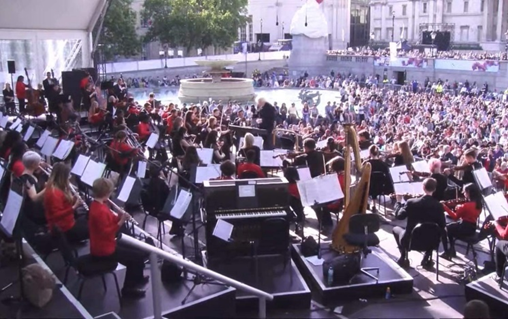 " I have really enjoyed my time at Trinity because it offered new experiences in music with groups like concert band, which helped me to improve my confidence because of getting used to performing in front of people and it also made me enjoy performing more. Performing with the London Symphony Orchestra, in preparation for the BMW Classics Series at Trafalgar Square in June this year, was an amazing experience because it gave me the opportunity to meet more young musicians as well as working with and playing alongside professional musicians from the LSO. During our rehearsals for this concert I got to meet and talk to the composer of the piece we played, which was really inspiring and we also got to work with the very famous conductor Sir Simon Rattle. The audience for the concert was absolutely huge – I felt really nervous but I really enjoyed it. I have really enjoyed particular subjects at school such as History, English, Citizenship and Music. One of the most memorable times for me was seeing 'Wicked' the musical with school. I will miss my teachers and my friends at Trinity but have good memories to take with me to sixth form where I want to carry on with my favourite subjects at A level."