Secondary Phase Learning
Home learning is set through Microsoft Teams. Pupils need to follow their usual timetable and go into their online classroom to ensure they get the same curriculum provision as being in school.
If you are unsure how to log into these platforms please email the school, mentioning the pupil's name and year group in the heading.This will go to your child's head of year who will respond the soonest possible.
Remote Learning during COVID time
The grid below shows you what we had in place, which includes looking at the Trinity Charter - our Character Education program. We continued with all our SEND groups and support programmes during lock down - to ensure our pupils get what they need to progress in their learning. Pupils had direct contact with all their teachers as well - email / phone / use of Weduc (our school app).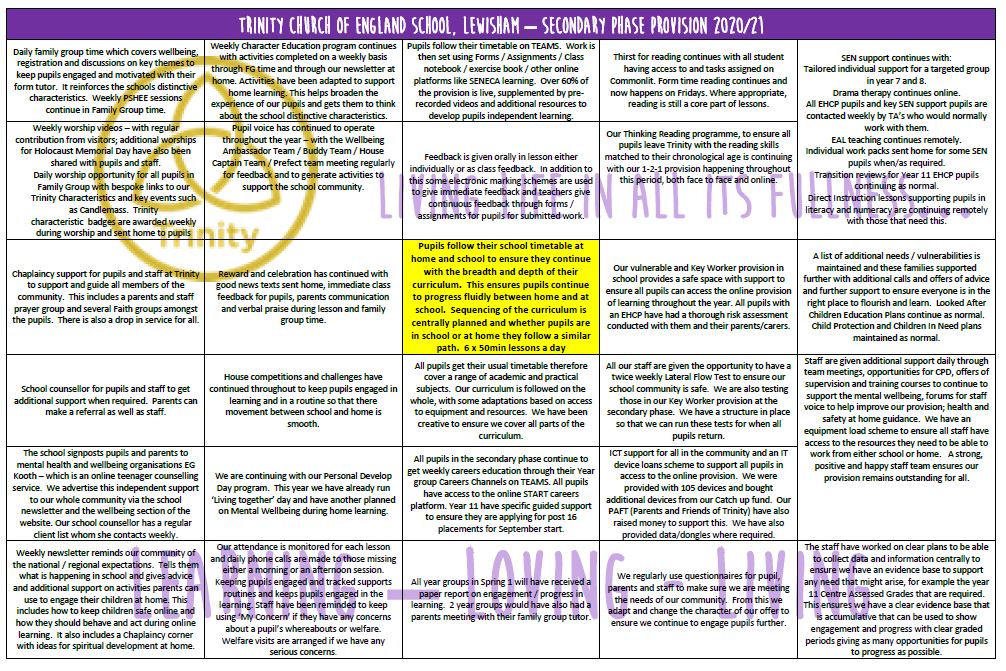 Ensuring outstanding behaviour and safeguarding children during online learning
At Trinity, the safety and wellbeing of our pupils is our most important priority. During online learning we have set up clear expectations of how we expect our pupils to behave during online lessons and also how to keep themselves safe. Our protocols are as follows:
Behaviour for learning expectations
Pupils must be punctual to their lessons (following their normal school timetable)
Pupils must attend family group time
Pupils should try to find a quiet space to work with no distractions
When entering their class lesson, pupils must mute their audio
If this is available, pupils must have their screen on
Pupils must participate in the normal class attendance register
When required, pupils need to unmute and converse with their teacher and peers
Pupils need to have the necessary equipment as required by their teacher
Pupils should only use the chat facility in Teams to discuss the work or any technical issues they may be facing
Pupils should remain in the lesson until a teacher tells them they can leave
Pupils need to submit work as directed by their teacher. They can contact their teacher via Teams or Weduc if they are having any problems submitting work
If a pupil wishes to discuss something with their teacher which they consider more private then they should use Weduc not Teams as the Teams chat is open to the whole group
Online safety
When online, pupils should blur their background or have a Teams background
All lessons are delivered using Teams so pupils should only be accessing this during the day
The only way a pupil should contact school is via Teams or Weduc
If anyone external tries to contact pupils online, they should tell their family immediately
Parents, if possible, please check in with your child regularly during the day
It is good for pupils to switch off from technology in the evenings, and especially at least an hour before bedtime
Pupils need to take breaks away from IT, do regular exercise, stay hydrated, eat healthily
For online safety support, please go to the follow links
https://www.saferinternet.org.uk/safer-internet-day/safer-internet-day-2021/i-am-parent-or-carer
https://parentinfo.org/ Help and advice for families in a digital world. Parent Info is a collaboration between Parent Zone and NCA-CEOP, providing support and guidance for parents from leading experts and organisations.
23rd April 2020 Guidance from the Government- What you can do to Stay Safe Online During the Coronavirus Outbreak https://www.gov.uk/guidance/covid-19-staying-safe-online
https://www.btg.ac/docs/Coronavirus_Updates/Top_tips_for_staying_safe_online_when_learning_remotely.pdf
When we return to school we will follow the same procedures as before Christmas - see below:
We will also be running the Lateral Flow tests in school - please see our newsletter for more detail.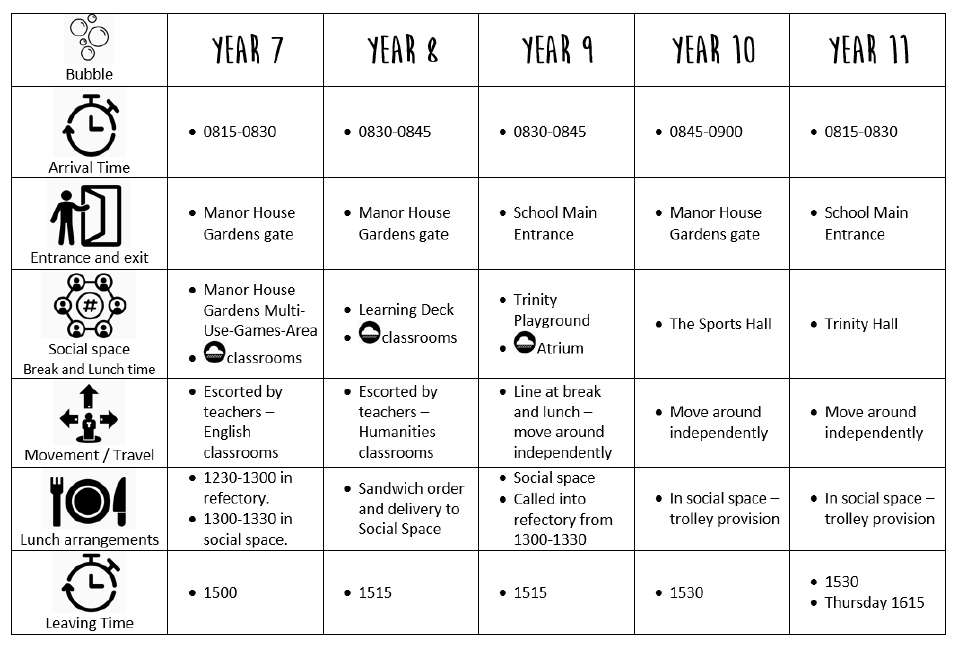 The information on this page is from Lock Down - we have kept it here in case you need to refer to it.
Stay safe
David Lucas
Monday 13th July 2020
Monday 6th July 2020
Monday 29th June 2020:
Welcome to the Secondary Page for Home Learning. The aim is to provide work for all our pupils to ensure they continue to make progress whilst we are closed during this difficult time. Our staff will be providing work via our school app - which is a platform that all pupils should be able to access. Pupils are expected to work the normal school day whilst at home. Please encourage your son / daughter to complete all the tasks set, and do check them for their quality and detail. It is important that we work together to ensure pupils continue to learn and do not fall behind.
**** Please do monitor the amount of work your son / daughter is doing. Talk to them about their learning. The work is crucial and will count towards end of year / course grades. Year 10 in particular are working on content that is part of their GCSE's - so vital they complete it to the best of their ability*****
The school has also recently invested in Microsoft 365 and Teams. Some classes after Easter will move to using Teams as well - which enables more direct teaching to take place live with pupils. Watch this space.
All pupils have had training on how to log into the school app - Weduc. If you have not yet downloaded this app you can from the Apple App Store or Google Play Store. You can also access this app via any computer - click here to take you to the Weduc sign in page. See information below and carry on reading under these images.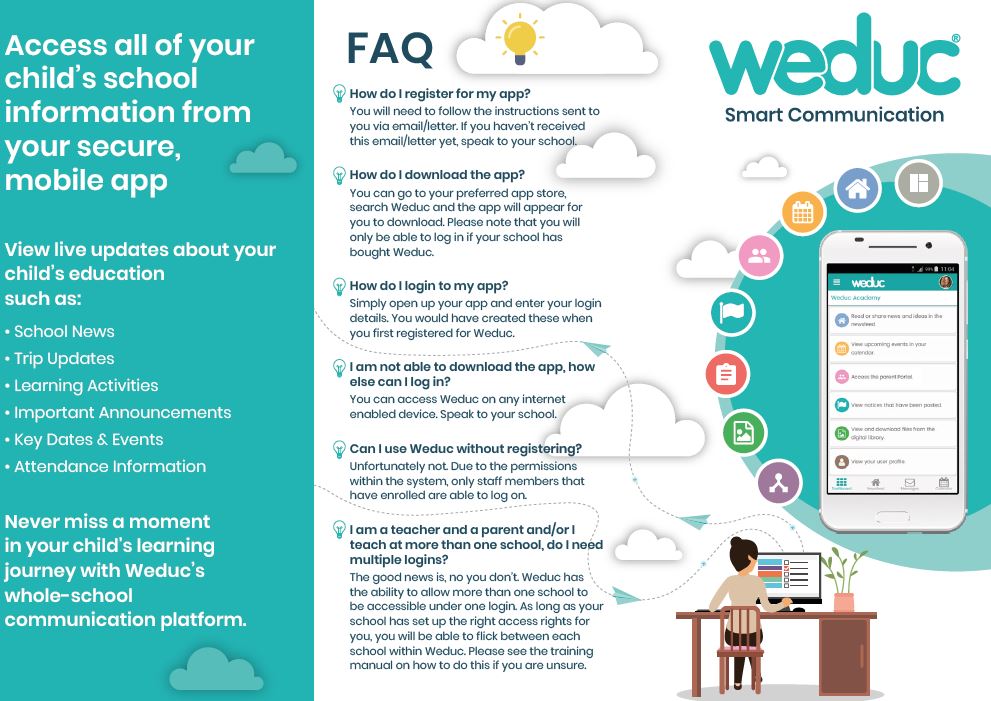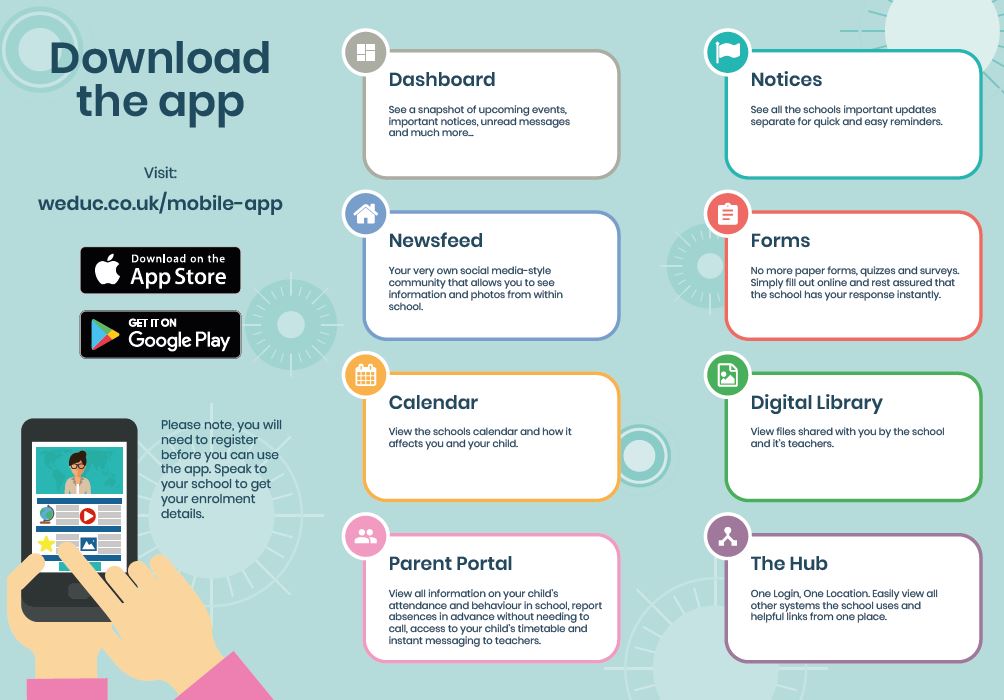 There is a document below that gives you advice on how to use Weduc. All pupils have their own login that is personal to them which links all their teachers to their account. All parents also have their own separate account, with a different login. If you or your son / daughter is having difficulties with logging on please do call the school. They will be able to support you or get a member of the IT team talk you through how to set up Weduc. Getting this to work is crucial. There is a document attached at the bottom of this page that can support you to retrieve forgotten passwords as well.
A List of websites you can click on can be found below. These will help with studies at home as well.
PIXL Maths App (TS304, LOGIN: Surname and first initial, PASSWORD: first name)
BBC Bitesize KS3 - year 7 and 8
BBC Bitesize GCSE - year 9 - 11
CommonLit - reading used for year 7 - 10
TrueTube Videos (RE and Citizenship support)
See the challenge pack attached at the bottom of this site . . . great activities to use with your children at home
Pupils should contact their teacher directly via the messaging service on Weduc if they have any questions / problems. All our teachers, as long as they are well, will be online during the day to be able to respond to pupils. Pupils will be asked to demonstrate what they have achieved. Please also see a specific letter for parents and pupils in year 11 with regards to the governments plans on giving pupils grades.
There are many ideas on what you can do to support your child's wellbeing whilst being at home as well:
Offer to wak a dog for a neighbour
Learn Origami
Offer to shop for someone who needs to self-isolate (do not make contact, you need to stand at least 3 meters away when dropping things off).
see if any elderly neighbours or people living alone near you would appreciate a phone call each day (no visiting).
Walk or run, preferably in a green space, every day. You need to make sure you keep at least 3 meters away from anyone you meet.
Learn a new skill e.g. knitting, crochet, printing, life drawing. Look online for videos and ideas.
If you have a musical instrument at home practice regularly and look online to see how you can improve
Play games as a family to break up the day - get that monopoly board out to help you.
Brush up on your cooking skills. Have a bake off challenge or come dine with me competition at home.
Grow something indoors
If you have a garden spend time in it - fresh air is great
Make a game for your family to play