House Structure
At the secondary site, all staff and pupils are assigned to a house. Our houses are led by staff members and are supported by our house captains and deputies.
House Captains
At the beginning of the academic year meetings are held to elect House Captains. We will have one captain and deputy per year group. The job of the House Captains is to take responsibility for the leadership and organisation of their house in their year group throughout the forthcoming academic year.
House Competitions
House competitions take place throughout the year; all competitions give the students the opportunity to win house points. House points are added together and the house with the most points at the end of the year wins the overall house competition. Students quickly form an allegiance to their house and a sense of fun and friendly competition pervades all the house events.
Examples of house competitions could be: (but not an exhaustive list)
Drama
Sports Day
Quiz's
Debating
Masterchef
Young writers
Sport and Fitness challenges
Subject challenges (English, Math's, Science, Humanities,
Creative, Music, Drama and PE)
Christmas card design competitions
Flag design competitions
Charity – fundraising competitions
Collections of recyclable materials, loose change, batteries
On-line challenges and competitions (during COVID-19)
2020-2021 Trinity Events:
Show Racism the Red Card Charity competition. Raising £472.49 for local charities
Big Battery Hunt – November 2020
Christmas Jumper Day. Raising £172.88 for international charities
Online Remote Challenges – January-March 2021
Trinity House Day – Raising £406.66 for local charities
Greenwich Park Day – July 2021
House Winners 2021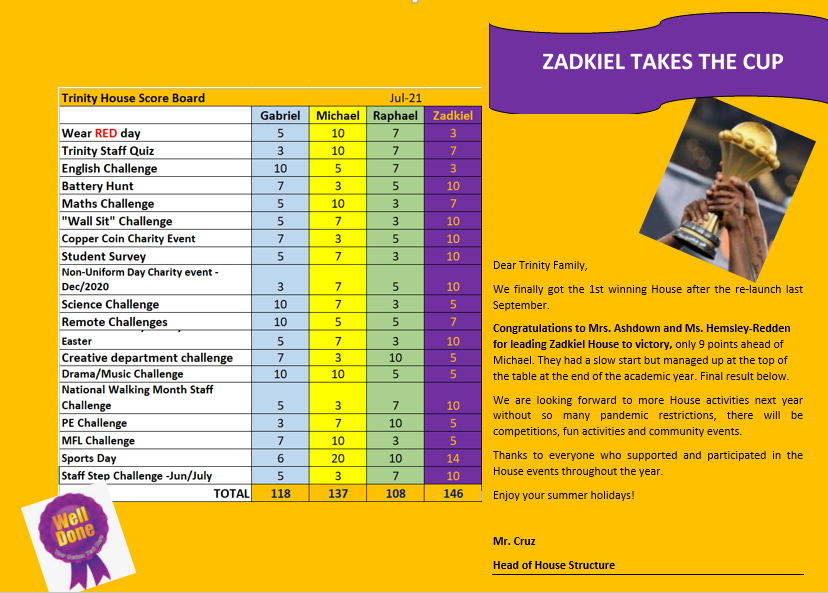 Sports Day July 2021