Home Learning
Home learning at KS3
Pupils will be set, on average, 60 minutes of home learning each night in Years 7, 8 and 9 (term 1 only). Each subject will set 20 minutes of home learning on their allotted days and will contain an element of retrieval practice and knowledge retrieval activities focused on knowledge organiser content. Home learning activities will be completed either in pupil's exercise books or Microsoft Teams.
Pupils will be able to create a home learning timetable (similar to the one below) in page 1 of their Knowledge Organiser books to ensure they are organised for home learning.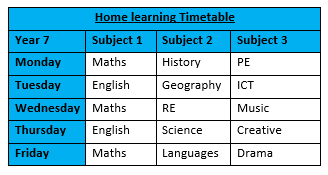 Pupils will also be assigned ENGLISH reading activities on www.CommonLit.org with each assignment taking 20-30 minutes to complete and MATHS activities with short explanatory videos on the online platform https://mathswatch.co.uk.
It is also recommended that pupils take advantage of FREE online revision tools such as www.senecalearning.com and pupils READ a variety of fiction and non-fiction books of their choosing of which can be borrowed from the school library.
Home learning at KS4
In years 9 (after term 1) to 11 pupils will be set home learning tasks that are slightly longer, between 45 to 60 minutes per subject each week. Home learning tasks are uploaded to Microsoft Teams. It is expected that pupils check this daily for assignments issued by teachers. Pupils are encouraged to create a home learning timetable of which to organise their home learning.
More extended home learning may be set over holiday periods. On occasions, individual subject teachers may set home learning activities that are important to the progress and achievement of pupils. These will be set via Microsoft Teams and pupils will be provided advanced notice.