Food & Nutrition
Food preparation and Nutrition teaching at Trinity
Food and Nutrition in our school will equip students with the knowledge, understanding and skills required to cook and apply the principles of food science, nutrition and healthy eating.
Our curriculum encourages students to cook and enable them to make informed decisions about a wide range of further learning opportunities and career pathways as well as develop vital life skills that enable them to feed themselves and others affordably and nutritiously, now and later in life.
Through food and nutrition, students will:
Demonstrate effective and safe cooking skills by planning, preparing and cooking using a variety of food commodities, cooking techniques and equipment,
develop knowledge and understanding of the functional properties and chemical processes as well as the nutritional content of food and drinks,
understand the relationship between diet, nutrition and health, including the physiological and psychological effects of poor diet and health;
understand the economic, environmental, ethical, and socio-cultural influences on food availability, production processes, and diet and health choices
demonstrate knowledge and understanding of functional and nutritional properties, sensory qualities and microbiological food safety considerations when preparing, processing, storing, cooking and serving food
understand and explore a range of ingredients and processes from different culinary traditions (traditional British and international), to inspire new ideas or modify existing recipes
The Food Preparation and Nutrition (FPN) learning Journey for KS3 students (year 7-8)
At KS3, students are taught in a 'carousel' of 3 creative subjects, Art, Engineering and Food. In Food students are taught the principles of Food Hygiene and Safety, Healthy eating and begin to explore the science of food production. They learn a variety of culinary skills, cooking predominantly savoury meals that they can feed to themselves and their families. We teach students about where food comes from and encourage them to question the sustainability of our current end emerging food production methods.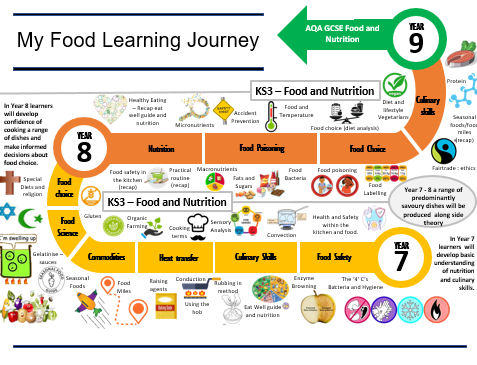 The Food Preparation and Nutrition (FPN) learning Journey for KS4 students (year 9, 10 & 11)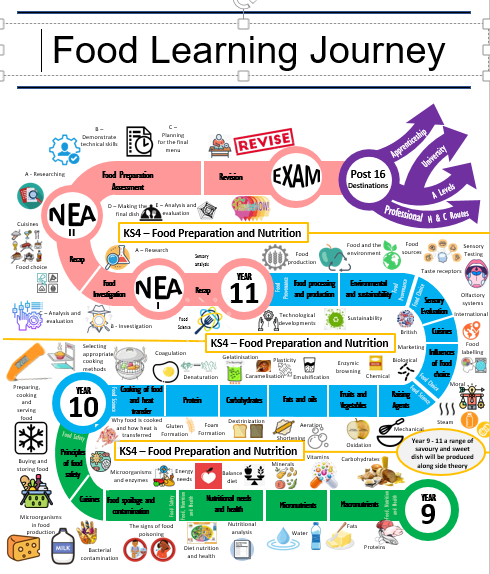 Year 9 FPN - A foundation year for GCSE
At Trinity we aim to build the skills necessary to be successful on the GCSE course in years 10 and 11. We cover many of basic skills and topics to build the confidence of students and challenge them with tasks that require them to think more deeply about how to apply the knowledge they have been previously taught.
Our GCSE Year 9 Curriculum year changes to meet current restriction but in 20201/2022 it will look like this: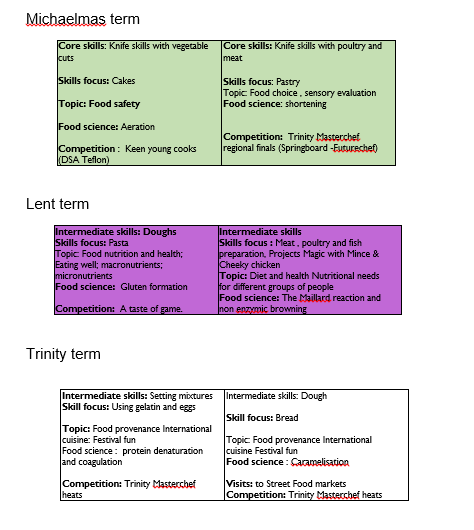 Please note competition entry will depend on what is being offered post COVID-19
Knowledge organisers
Knowledge organisers are used for all stages of KS4. These are incorporated into Mastery workbooks and are used for lessonas and homework. Key terms and phrases are based on the AQA specification and includes all keywords, food science and knowledge summaries.
Challenge in Food Preparation and Nutrition
'It is good for pupils to struggle just outside their comfort zone, as that is when they are likely to learn the most.'
Students entering the Food room are deliberately challenged to recognise that they are studying a Science and not only learning how to cook. To this end the Food department works in collaboration with the Science department to provide multiple opportunities for students to make links between the two disciplines.
An example showing how we challenge students to use their learning in science
When understanding a chemical reaction in Food production.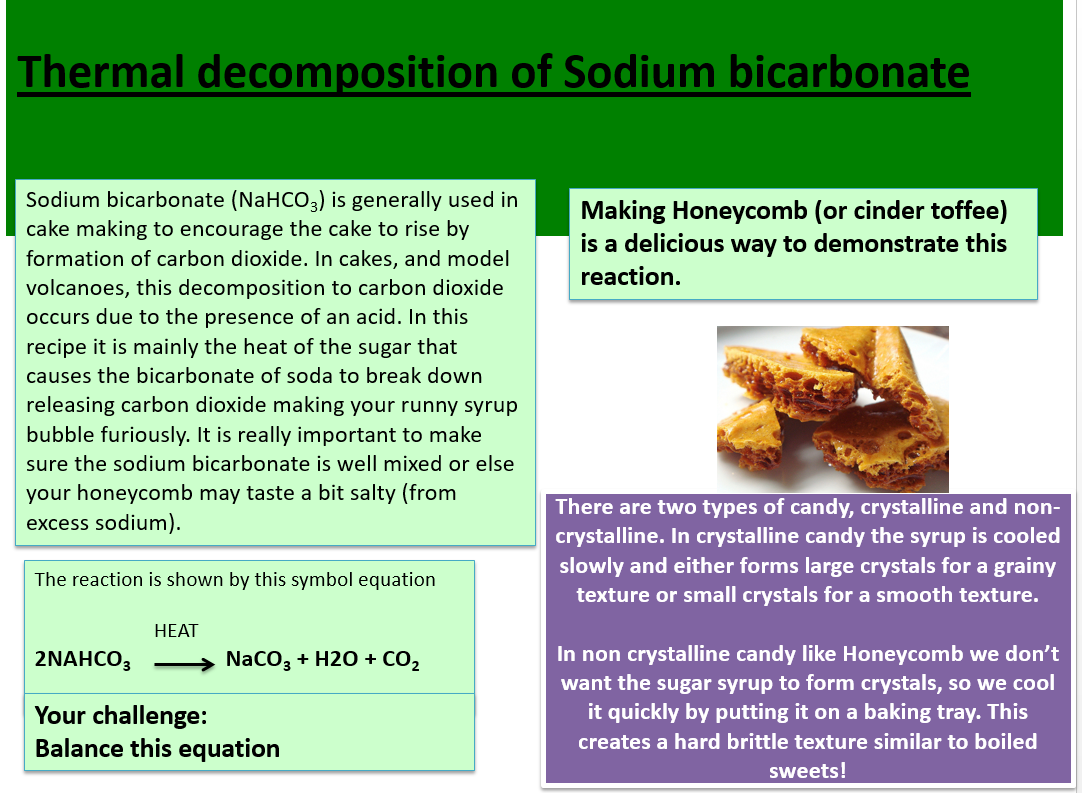 Assessment in Food preparation and Nutrition
Assessment is frequent with regular end of topic tests. During the GCSE course, formal assessments are set termly.
In year 11, students concentrate on the NEA tasks. Currently this consists of a practical food science investigation and a food preparation examination. The NEA is worth 50% of the GCSE. A final paper is taken in June. This is worth 50% of the GCSE.
We also use Seneca learning to help to promote students recall and application of knowledge, especially when a new topic has been introduced. Students can use this platform to test themselves and to build in depth knowledge on all the main topics for this course. We also have a digital version of the text book (ILLUMINATE) which has a variety of mini quizzes available to students for self-study.