Trinity First Give social actions awareness program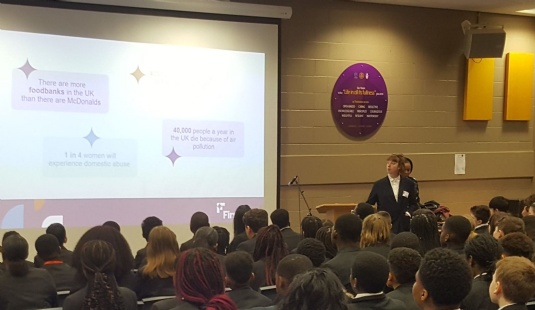 Today, Year 8 pupils had a special assembly to launch the First Give Social Actions Awareness Program.
Over the course of the year, pupils in Year 8 will study and research local social issues ranging from homelessness, cost of living crisis, societal prejudice, youth projects and charitable work within Lewisham.
Pupils will then work on a project during family groups time following a program of study to promote and support the work of a local charity/social action organisation. Pupils will then launch, run and manage their own "raising awareness" campaign.
At the end of the project there will be a public speaking presentation in which pupils will try persuading a panel of judges to pick their chosen initiative based on their presentation skills and the work that they have carried out.
The prize is a £1000 cheque for the winning team to donate to the chosen charity / social action group that they have worked with throughout the year.