The Story of Eunice Adeoyo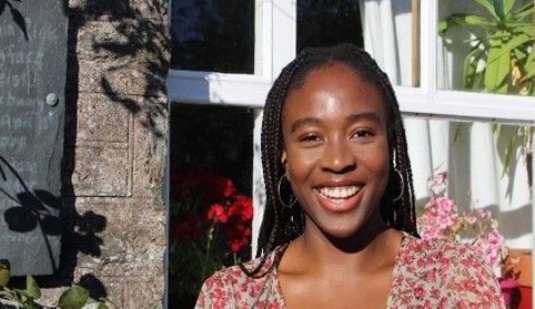 After arriving in England from Nigeria as a small child, I spent a long time not sure what my future held. In 2011, I started my secondary journey at Trinity. Looking back now, I feel fortunate to have gone to Trinity as during my five years there I made lifelong friendships and was encouraged to pursue my goals.
It is an environment where hard work is rewarded & teachers take an active interest in helping you reach your fullest potential. By the time I sat my GCSEs my CV was already full of interesting subject-based lectures; Oxbridge talks from Trinity alumni and the leadership skills gained from positions in school like Head Girl and Library Assistant. The support I received also extended to where I would go after Trinity for sixth form.
With the help of my teachers, I was put forward for a scholarship at Lancing College, an independent boarding school in West Sussex which Trinity has strong links with as both schools are part of the Woodard Schools community. My two years at Lancing were filled with the same kinds of encouragement I received from my teachers at Trinity despite these 2 schools being very different! My homesickness at the beginning was very much assuaged by the new and exciting opportunities I now had access to - Studying away from home at Lancing College wasn't always easy but it provided me with a much-needed push from my comfort zone. Being at Lancing highlighted the importance of taking ownership of my background and identity, through this, I was able to define the values that I felt were important which played a part in my nomination as Head Girl in Year 13. I led several charitable initiatives including a foodbank drive and an Amnesty International letter-writing campaign. I left Lancing with an offer to read English at Cambridge University (I was the only girl to receive an Oxbridge offer that year) and a more complete sense of the type of person I wanted to become.
My three years at Cambridge were spent at King's College, known for its world-famous chapel and picturesque gardens. Cambridge was transformative. I made some wonderful friends, united by late-night essay-writing sessions and the dread of arguing your point in a 1-1 supervision. Although studying was a huge part of my time at university, I was also able to get involved with things which I found politically motivating. As President of the King's College Student Union, I raised over £6000 for UK racial justice charities and lobbied for better diversity and inclusion policies within King's.
After university, I was offered a job at IntoUniversity, a leading UK education charity. The charity aims to help disadvantaged young people gain a place within a higher education establishment and provide tailored career support and internships. It felt like a cyclical moment, being able to give back the time and support many wonderful teachers and mentors had given me. The best part of the job was seeing the ambition, drive, and raw talent in the young people I worked with. Despite my love for the job and passion for the charity's cause, the role I played in helping young people realise their future aspirations made me reflect on the kind of career I wanted in the long-term.
I decided a career in Law was what I wanted to pursue. After many months of writing applications, I received a training contract from a leading US law firm. With the firm's generosity and support, I have now begun my law conversion course at the University of Law and look forward to starting as a solicitor once I have finished. So, thank you Trinity for being the keystone part of my educational journey (so far) and hope to see you all soon. Eunice.