Mathematics & Statistics
At Trinity we adopt a mastery approach to the teaching of Mathematics to ensure the best progress and outcomes for all of our pupils. We believe this approach allows pupils to develop a depth of understanding and a positive relationship with Mathematics. Mastery supports pupils from all starting points in exploring and explaining mathematical ideas and developing their own connections before developing these connections into a working understanding of key mathematical concepts. Pupils who develop this flexibility of thinking in KS3 are more readily equipped to meet the demands of the new GCSE curriculum. We seek to develop confident mathematicians and foster a love of Maths.
Procedural and conceptual variation underpin our pedagogy to unpick the intricacies of the required mathematical methodology. We interleave key learning to maximise retention.
KS3 Overview

For pupils who are below expected standard at the end of KS2 and need some intensive catch up we use a program called Corrective maths. Corrective Maths provides intensive support for students who have difficulty with mathematics. The series is organized into seven strategic modules that provide teacher-directed instruction on critical skills and concepts which struggling students often fail to grasp. The modules are addition, subtraction, multiplication, division, fractions, decimals and percentages, ratio and algebra.
KS4 Mathematics Foundation Overview

KS4 Mathematics Higher Overview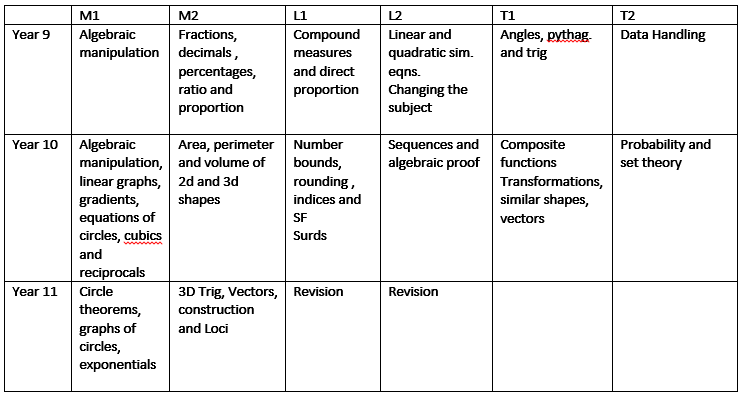 For talented mathematicians who are on track to achieve a grade 9 in Mathematics at the end of year 11, we offer them an additional qualification in Maths, FSMQ Additional mathematics which they study throughout year 11.
KS4 Statistics Overview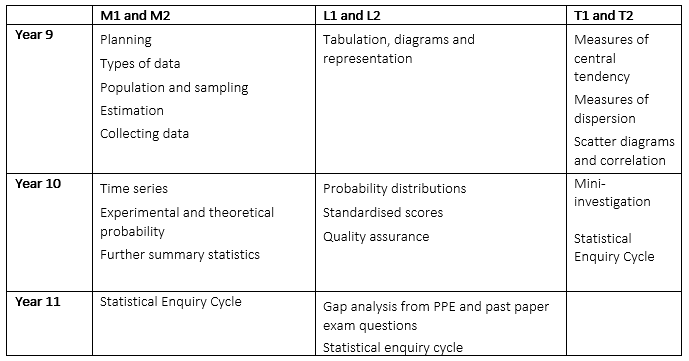 Knowledge Organisers in Maths and Statistics
All pupils in Year 7 - 9 have a Knowledge organiser in Maths with bespoke pages directly linked to their current scheme of learning. Year 9 pupils who choose Statistics as an option will have a Statistics Knowledge organiser.
The Knowledge organisers are available for pupils /parents to access on WEDUC. Pupils are expected to learn content from this weekly as homework alongside a weekly Mathswatch task.
A sample page from the year 8 Maths Knowledge organiser is below.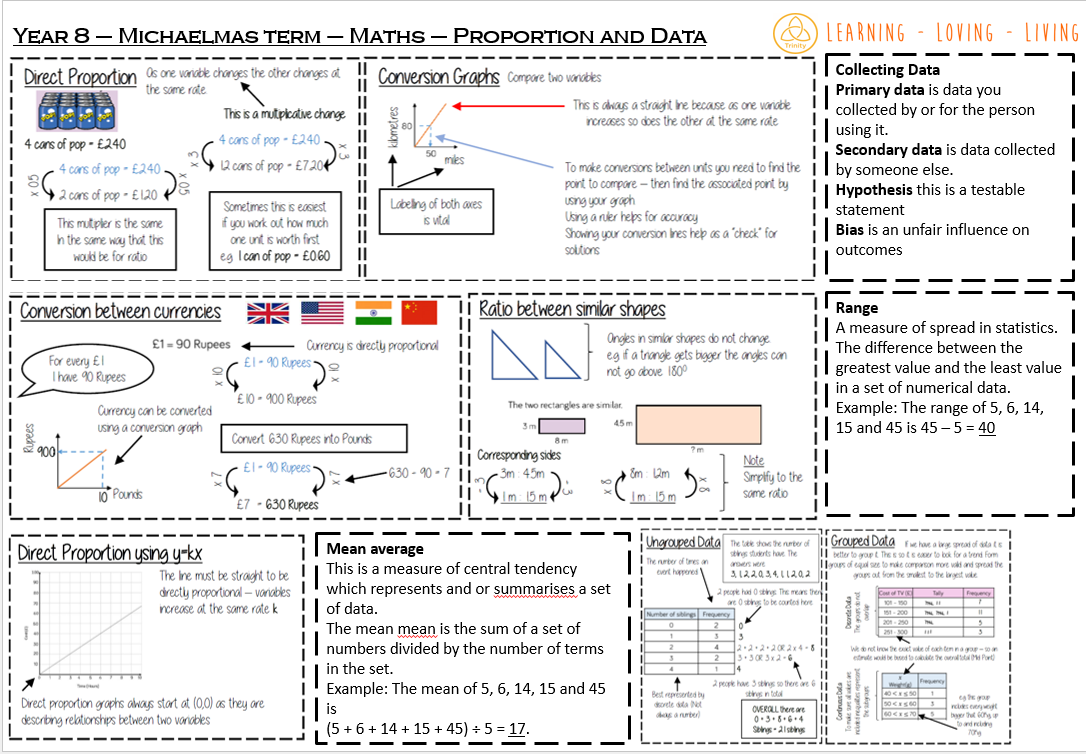 Assessment in Maths and Statistics
At both KS3 and KS4 we assess continually in lessons through detailed questioning and carefully designed tasks that allow our teachers to know the depth of understanding pupils have of the current topic.
Pupils in Year 7 and 8 Maths are assessed using a pre-test before each new unit and a post-test when the unit is completed. In addition they will also get an end of term assessment at the end of M2 , L2 and T2.
Pupils in year 9-11 maths and Statistics are assessed using a test at the end of each unit and a past paper at the end of each term.
Getting the Best out of your Maths Lessons
To make sure you are getting the most out of your Maths lessons at Trinity will require hard work and thinking from you. In lessons, make sure you're asking yourself "how does this new idea fit with what we've already learnt?" When the teacher is explaining, try to predict for yourself what will happen next.
You will also need to study on your own by completing homework every week. The school pays for you to have access to https://vle.mathswatch.co.uk – make sure you look at this each week. Also you can access both https://corbettmaths.com/ and https://www.drfrostmaths.com/ for free. The best way to get stronger at Maths is by paying close attention in class, getting as much practice as possible and linking your learning to other parts of Maths.